Features to Supercharge
Your Team's Productivity & Task Clarity
Completionist is the leading Asana WordPress plugin with an exceptional suite of features you can't get anywhere else. Boost your productivity to the next level by seamlessly connecting your Asana project management workflow with any WordPress website content!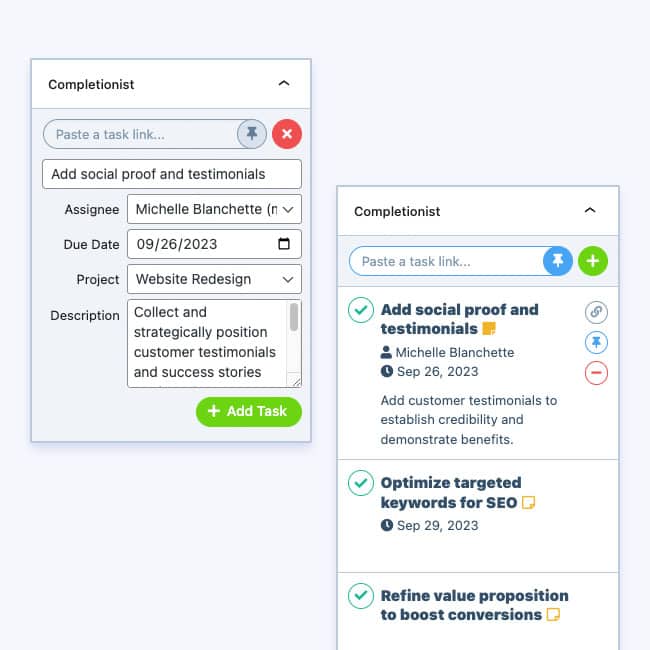 Pin and create Asana tasks directly on WordPress content.
Provide crystal-clear clarity and reduce tiresome context-switching by creating and listing Asana tasks on any type of content within the WordPress editor.
Pin existing tasks that were created in Asana
Add new Asana tasks from within WordPress
Pin to any post type such as products or shop orders
Track relevant Asana tasks in your WordPress dashboard.
Review progress and access all outstanding Asana tasks associated with WordPress to stay focused on all current content initiatives and website maintenance.
Check on productivity with a simple progress overview
Prioritize quickly with 4 task category filters
Access pinned tasks to get straight to work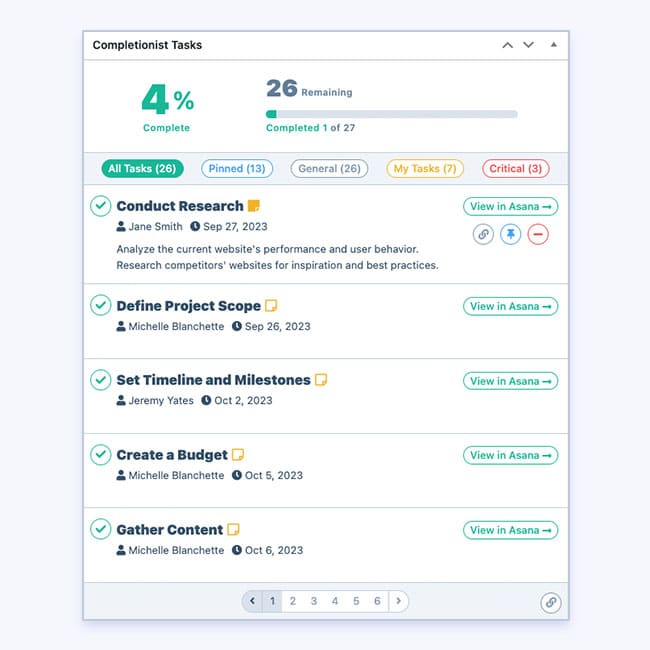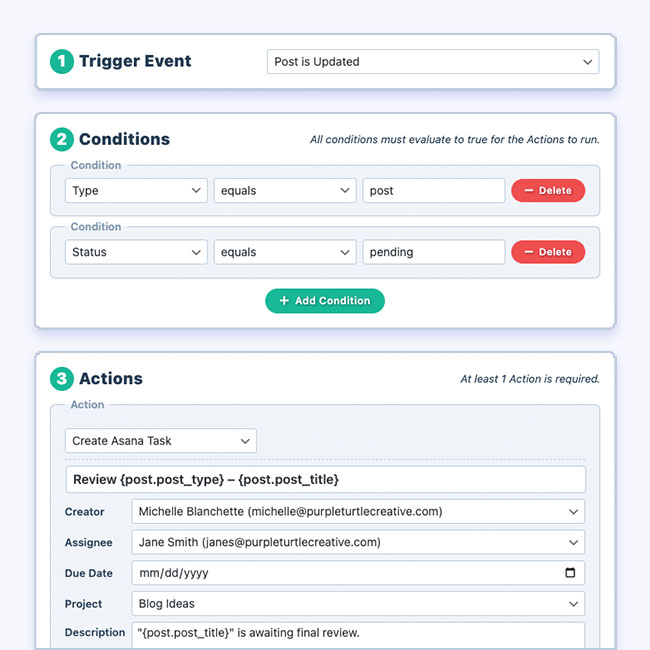 Automatically create Asana tasks from WordPress activity.
Standardize your content management workflow and never miss a beat by automatically creating Asana tasks as changes happen on WordPress.
Choose from 6 common WordPress event triggers
Specify any custom action or filter hook event trigger for endless possibilities and integrations
Control context with custom conditions
Compose Asana tasks with dynamic values from WordPress for effortless clarity
Display Asana projects on your WordPress website.
Share real-time progress on WordPress posts and pages to boost engagement from clients and stakeholders while emphasizing your own brand.
Customize project display with 13+ shortcode attributes
Keep clients out of your Asana workspace by providing your own branded experience
Stop writing tedious emails by providing stakeholders self-serviced, real-time progress updates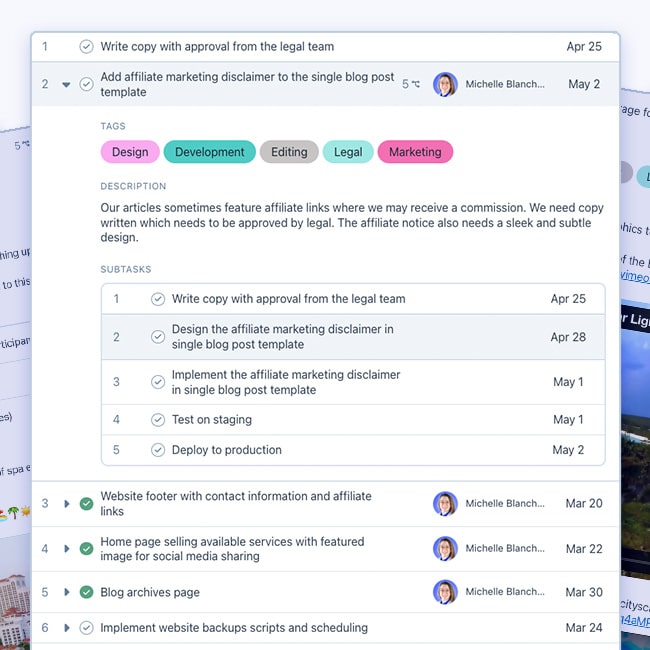 You won't believe what's next…
Completionist's development queue is always brimming with exciting new features to accelerate your productivity and collaboration on WordPress with Asana.
Subscribe to the Completionist mailing list so you don't fall behind!
This Isn't Your Average
Task Management WordPress Plugin
Completionist is a specialized solution to integrate your Asana workflow with the WordPress projects you're managing.
Other plugin solutions bog down your WordPress website with excessive scripts and backend processes while trapping all of your task data in a central location that you're responsible for securing and maintaining. Yikes!
Completionist is different by integrating with the leading work management platform, Asana. This means Asana does all of the heavy lifting to store and secure the priceless ideas and project plans you've carefully thought through. By using Asana, you can also integrate your tasks with a wide range of other popular tools such as Slack and Zoom.
Many organizations today don't just manage one WordPress property, though! That's why Completionist let's you connect the same Asana workspace to multiple WordPress installations. This is especially ideal for web agencies who complete work across multiple WordPress websites while tracking tasks in their own, centralized Asana workspace.
Unique Benefits to Provide
an Exceptional Integration Experience
Completionist is the only Asana WordPress plugin that offers a streamlined, modern user experience.
Distraction-Free
Only tasks with the designated tag will be displayed in WordPress to help you stay focused.
Two-Way Integration
Manage tasks from within Asana and WordPress so you can take care of business anywhere.
Secure & Private
Authentication tokens are encrypted when stored and Asana task permissions are strictly enforced.
Lightweight
Asana still does the heavy-lifting, so your WordPress website stays lean and performant.
Powered by Asana
Ensure no task gets forgotten by integrating WordPress with your favorite project manager.
Modern Experience
Enjoy fast and comfortable interfaces that load tasks asynchronously so you can keep moving.
Wanting more features?
A premium version of Completionist is in the making!
Completionist Pro will offer advanced features that help you create an Asana-powered client portal on your WordPress website. You'll be able to easily connect Asana projects to WordPress users in your brand's own styles and site domain.
Frequently Asked Questions
System requirements?

Please visit the Completionist plugin information page to see server requirements and view the changelog.

Before releasing a new version of Completionist, I ensure it is compatible with the latest version of WordPress. Remote updates are included, so you'll promptly be notified of future releases in your WordPress admin area.
Is an Asana account required?

Yes, an Asana account is required to use Completionist. You can quickly create an Asana account for FREE!
What languages are supported?

The Completionist plugin is written in American English (en-US) and currently doesn't support translation. However, your Asana projects and tasks will display their original content which may be in another language. All text labels and messages surrounding the Asana data, though, are in American English.
Is this WordPress multisite (wpmu) compatible?

Yes! Feel free to activate the plugin at the network level or per blog/subsite. If you decide to uninstall Completionist, all plugin data will be properly removed across your network.
Are you affiliated with Asana?

No, I do not have a business relationship with Asana. I just happened to be looking for an Asana integration for WordPress and failed to find an affordable, specialized solution. That is why I created Completionist!
How can I submit feedback, feature requests, and bug reports?

I'm happy to receive all the feedback you have about Completionist! Please send your requests, frustrations, suggestions, or any other idea to me via this Google Form.

While I don't guarantee that your request will be implemented, I do actively track and triage user requests in my development queue. It's important to let your thoughts be heard so that I can promote common requests to a higher priority! Taking 5 minutes to send a quick email is a lot cheaper than paying for custom development, right?
How can I ask a different question?

If you want to ask a question or discuss an idea, please contact Michelle at [email protected].