Since starting the project back in February 2020, I've continuously worked on developing the Completionist WordPress plugin into something that provides substantial value. There are many generic integration tools to connect Asana and WordPress, but they are often over-priced, pay-per-use, and lack useful features. By hand-crafting a specialized solution, I've built a powerful integration suite that is unlike anything else available to Asana users and WordPress site owners.
While there's still so much more that I'm excited to offer in the Completionist WordPress plugin, I finally feel the plugin has reached a place where it deserves to be more widely promoted. This is where the following list of changes comes in!
Official WordPress.org Plugin Listing
I'm currently migrating the Asana integration WordPress plugin to the official WordPress.org Plugins directory. This means that Completionist will be available for download through the Plugins > Add New administration screen of all WordPress websites. It also means WordPress.org will host all future updates. Since Completionist has always provided free remote updates, existing users shouldn't notice any changes. This change should be seamless.
Completionist Pro (Premium Features)
In addition to hosting future updates through WordPress.org, I have even more exciting news! Premium features of Completionist will become available soon! Once remote updates are provided through WordPress.org, you'll also see a new Upgrade submenu item of Completionist's menu. From there, you can purchase and instantly gain access to Completionist Pro via Freemius.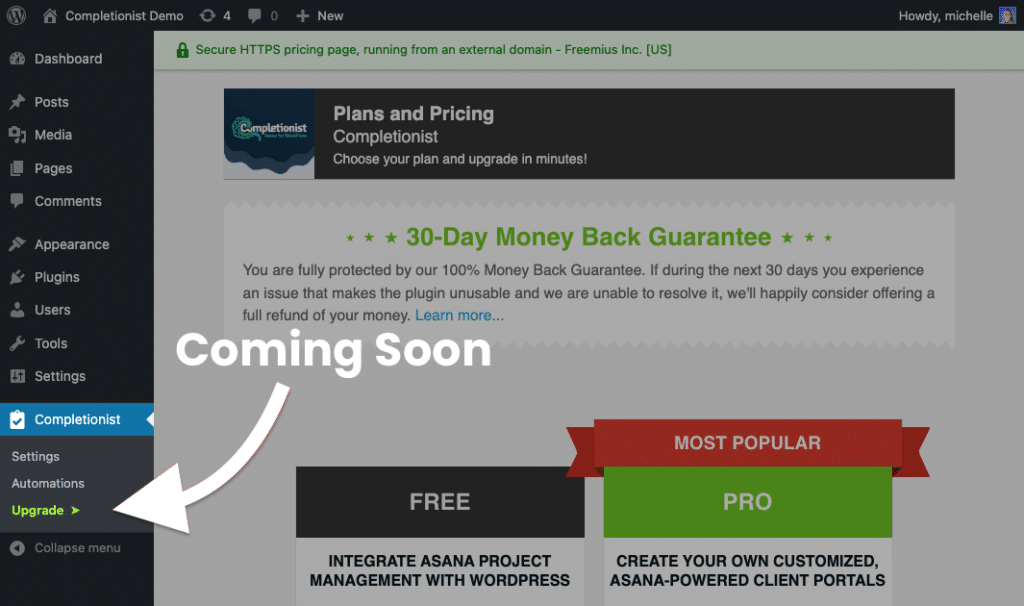 For the past few months, I've been actively developing users' most requested features within Completionist Pro. The premium plugin will be a complete software package for creating custom, Asana-powered experiences on WordPress websites.
With Completionist Pro, you can finally build custom-branded user portals to collaborate on Asana projects and tasks with your WordPress users on your own website domain! Instead of bringing your audience or customers into your Asana workspace, you can keep all communications under your own branding.
Please see the Completionist Pro webpage to learn more about the current list of premium features. Remember to check back often as I continue to add more exciting features, too!
Estimated Timeline & Expectations
This transition depends on the WordPress.org plugins review team who currently estimates a 2-month wait period. Current users of Completionist don't need to take any action, but I'm delaying new features throughout this time. You may still download and upgrade to the latest version of Completionist, but this will be the last version hosted through Purple Turtle Creative's own server.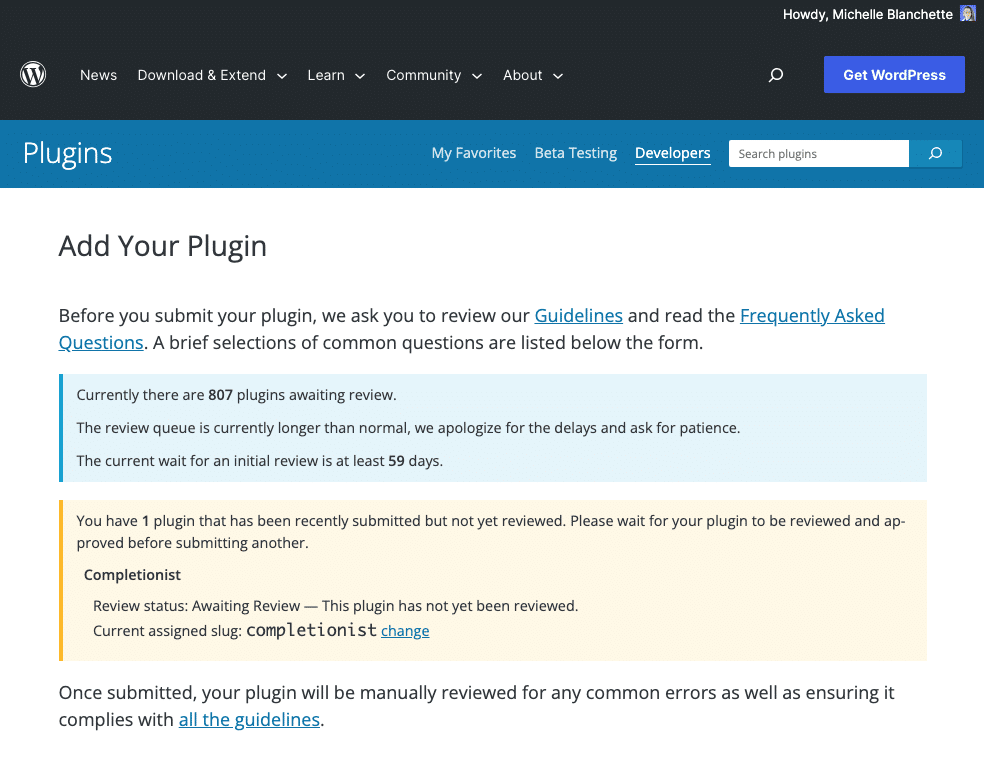 If you have any issues with the latest release of Completionist, please send an email to me. I can squash bugs during this transition period, but I'm postponing all new features until the migration is complete.
Thank you for your patience, and I look forward to further serving the Asana + WordPress community!
Get the Latest Updates
Join the Completionist mailing list to know when exciting new features and critical updates are released to supercharge your productivity with Asana and WordPress!